What's the most effective way to:
Start several different processes for Rails, such as Zeus, Rails server, rspec, resque, and the scheduler.
Have the output for each process in a separate tab.
Not have the process pause when you scroll the output, as happens in tmux.
Here's a short demo of using tmuxinator to get a project running in several iterm2 tabs:
Why Guard?
I use Guard for:
Automatically running rspec tests based on changes in either tests or source files. Together with Zeus, I haven't found a faster way to get immediate feedback from tests. Pro tip: Learn how to use :focus with your specs to configure exactly what tests to have guard run.
Automatically restarting the server when needed. For example, if you change gems or routes, you need to restart the server.
While I love running Guard with Zeus, Spring is the default in Rails 4.1, so I'll probably give that a try in the near future.
Why Tmuxinator and Tmux?
Tmuxinator is awesome for configuring the layout of several processes.
Here's a sample tmuxinator file.
When I run the command
And then I see the following. This is way easier than opening up tabs in iTerm2 and running commands every time.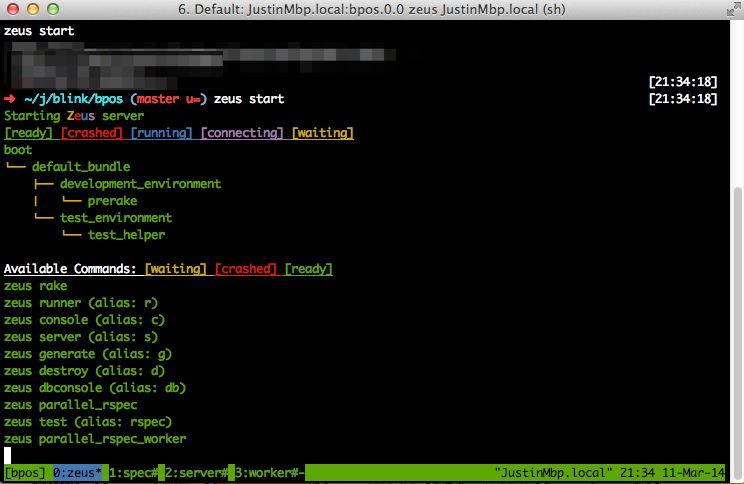 The main problem with this setup is that if you scroll a window backwards (using the tmux keyboard bindings), and you don't un-scroll, then the process pauses, such as the Rails server. That's super annoying. Often I'm running specs, and I want to scroll back to see a stack trace, but that prevents the continuation of the test run! Here's a short discussion of the issue.