I had the opportunity to spend the entire workday remote pair programming from my office in Maui with a San Francisco client from Cloud City Development. We used our normal tools of RubyMine, Chrome, and iTerm2 on a 27" Cinema Display shared via Screenhero. While remote will probably never be 100% as good as true in-person pairing, it's getting very close! Here's some tips for effective remote pair programming. Scroll down to the bottom for the TLDR if you're short on time. Overall, I would highly recommend remote pairing with RubyMine on a full 27" Cinema Display, using an iPad with a Google Hangout for eye contact!
Here's a very detailed video of how to do remote collaboration:
Telepresence Using Video Chat on iPad
Per the recommendation of Tim Connor of Cloud City Development, I started using an iPad for telepresence for only the video, using Google Hangouts, muting the microphone on the Hangout, and using the audio on Screenhero. While one can run Google Hangouts on the laptop, it can really suck up the CPU. Note, an iPhone or probably an Android phone or table would work equally as well. In terms of the audio, the microphone and speakers are better on the computer. If one is using the laptop for the telepresence video, and using multiple screens, it's key to use the camera on the screen where one will be looking at the Hangout, and not at the Screenhero screen. As shown from the below pictures, it's key that it's obvious when the pairing partners are looking at each other versus at Screenhero. Incidentally, Screenhero did not suffer from any degradation when combined with the Google Hangout, regardless of using the Hangout on the laptop or mobile device.
In the below images, note where our eyes are focused.
Talking to each other, making eye contact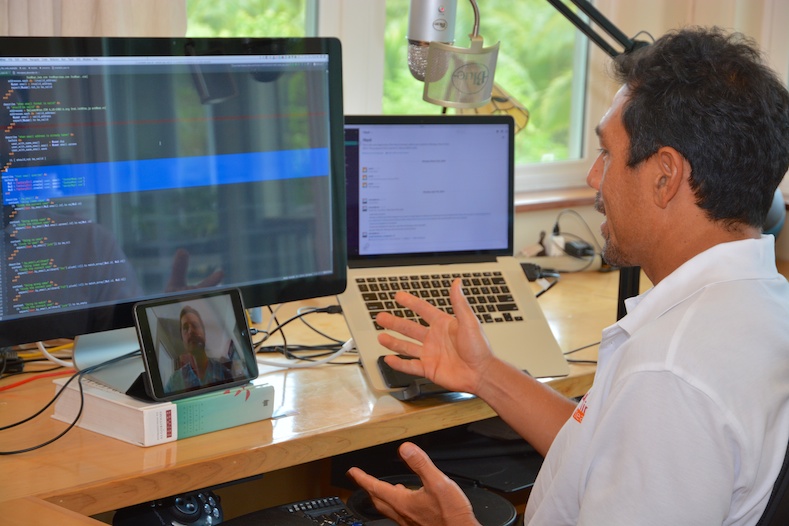 Both looking at screen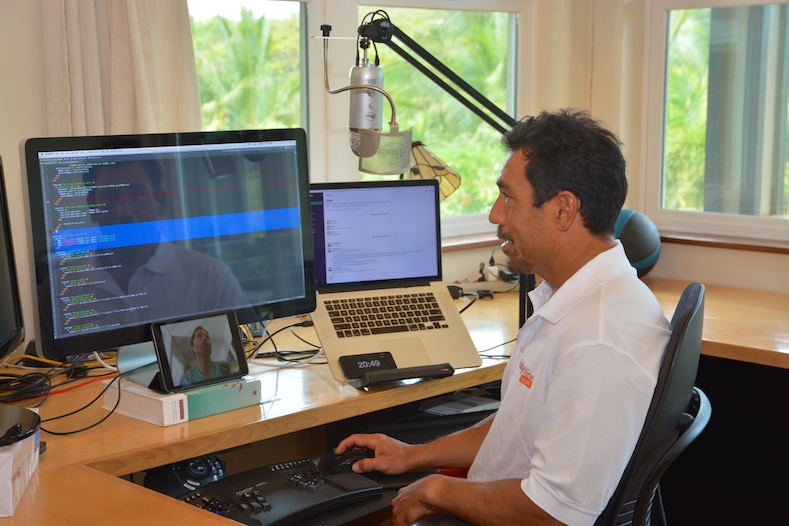 Talking to each other, making eye contact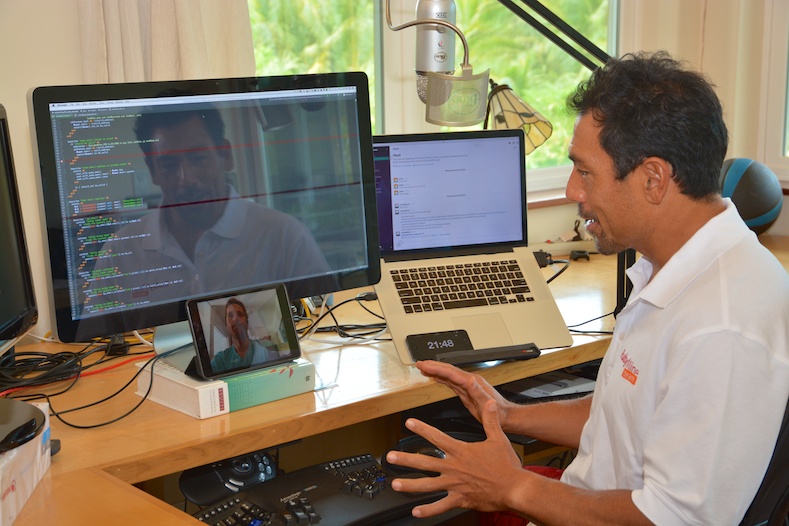 Shaka from Steve and Justin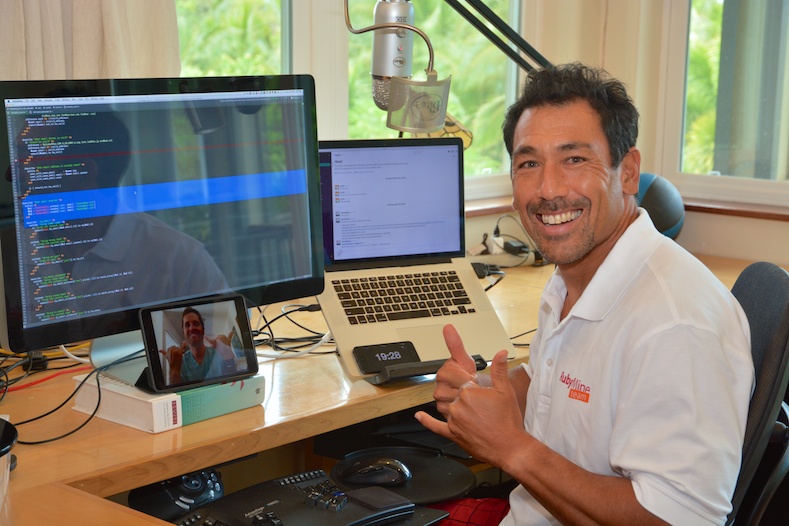 Screenhero
We both used Screenhero on Macs. I've done plenty of remote pair programming using Google Hangouts, but typically only one person sharing the screen drives the code. Screenhero allows true screen sharing such that both programmers can do the typing and mousing. With the shared screen being a 27" Cinema display, I set my Screenhero window to full screen and the resolution was nearly perfect. Yes, when scrolling and switching apps, there is a slight delay, but it was extremely manageable to the point that I almost would forget that I'm working on a computer 3000 miles away. Although there's a slight slowness in seeing keys that you type, it's minor enough that it's not a nuisance. The dual cursor support works great. Here's a video demo of the dual cursor support.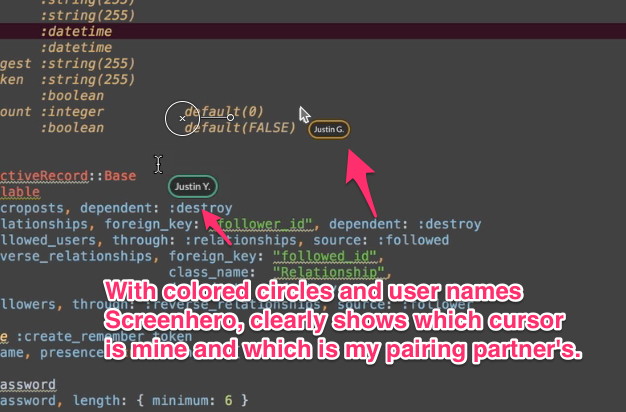 RubyMine IDE
Both I and my pairing partners were already using RubyMine, so using RubyMine was a natural choice over trying to pair with the conventional remote pairing setup of tmux and Vim. RubyMine combined with Screenhero, the same size big screens, fast computers, and very good broadband resulted in a productive pairing setup. One thing I hear about Vim setups is that pair programmers tend to not customize their Vim keymaps. With RubyMine, that's not an issue thanks to a feature called "Quick Switch Scheme" which allows very fast switching of keyboard bindings. I'm a Vim user (IdeaVim), and I would have been crippled without my favorite RubyMine Vim bindings. I like the "Quick Switch" feature so much that I made a short screencast on this feature, displayed below.
My Talk: Concerns, Decorators, Presenters, Service Objects, Helpers, Help me Decide
(Lack of) Live Coding in my Talk
Due to time constraints, I chose to skip the live coding I had prepared to do in my talk. Please let me know if you'd be interested in a screencast walking through the sample code. I will create one if there is sufficient demand.
RailsConf 2014 Pictures
Please share, so long as you don't remove the watermark.
Email me if you'd like any full size, non-watermarked copies.
Photos on Flickr:
What's the most effective way to:
Start several different processes for Rails, such as Zeus, Rails server, rspec, resque, and the scheduler.
Have the output for each process in a separate tab.
Not have the process pause when you scroll the output, as happens in tmux.
Here's a short demo of using tmuxinator to get a project running in several iterm2 tabs:
Why Guard?
I use Guard for:
Automatically running rspec tests based on changes in either tests or source files. Together with Zeus, I haven't found a faster way to get immediate feedback from tests. Pro tip: Learn how to use :focus with your specs to configure exactly what tests to have guard run.
Automatically restarting the server when needed. For example, if you change gems or routes, you need to restart the server.
While I love running Guard with Zeus, Spring is the default in Rails 4.1, so I'll probably give that a try in the near future.
Why Tmuxinator and Tmux?
Tmuxinator is awesome for configuring the layout of several processes.
Here's a sample tmuxinator file.
When I run the command
And then I see the following. This is way easier than opening up tabs in iTerm2 and running commands every time.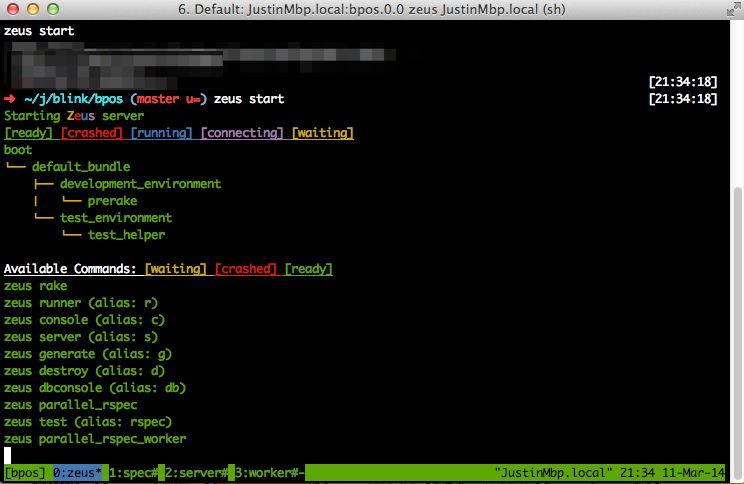 The main problem with this setup is that if you scroll a window backwards (using the tmux keyboard bindings), and you don't un-scroll, then the process pauses, such as the Rails server. That's super annoying. Often I'm running specs, and I want to scroll back to see a stack trace, but that prevents the continuation of the test run! Here's a short discussion of the issue.